Property styling is intended to make your home more appealing to buyers. Therefore when preparing to sell your home, one of the most important things to consider is how you'll style it and which areas if not all to style. The wrong styling choices can end up costing you time and money. But with the right approach, you can make your home more appealing to potential buyers and get closer to your asking price. In this blog post, we'll take a look at 5 key areas to style when selling your house.
1. Property Styling – The Living Room
When it comes to property styling your home for sale, the living room is one of the most important spaces to focus on. This is often the first space that buyers will see when they walk through your front door, so you want to make sure it looks its best. The intention is to create a comfortable, personality-filled living space that enables the buyer to imagine themselves living there and how their furniture will fit into the space. Here are a few tips for styling your living room:
Start by clearing out any clutter. This includes removing excess furniture, as well as magazines, newspapers piling up on the coffee table, family photos, mobile phones, charging cables, and paraphernalia.
Choose a focal point for the room and decorate around it. The focal point is the first thing you notice as you enter a room. This could be a fireplace, a large window, or a piece of artwork.
Use neutral colours to create a sense of space.
Use "raised"  furniture; i.e. furniture on legs. This allows natural light to flow freely and visually creates a feeling of spaciousness.
Preferably use low back, low armrest sofas in neutral colours.
Arranged furniture invitingly leaving ample open space for people to move around without bumping into furniture.
Use a rug to define the living area, especially in an open-plan setting.
Embellish with coffee table, side tables, lamps, decorative cushions, accessories, decorative cushions, and throws. Use a variety of textures and choose a "pop" colour or two. Be careful not to overdo it. Less is best.
2. Property Styling – The Dining Room
This space can be tricky to style, but with a few simple tips, you can create a look that will make potential buyers want to take a seat and stay for dinner! And this is exactly the ambiance you want to create – the potential buyer visualising themselves living in your house and how the dining area could be used.
Choose a round glass top table if the dining area is open plan.
Round tables tend to use less space, while their glass tops reflect light, making the room appear more spacious.
Place the dining chairs a few centimetres away from the table. This too creates a sense of spaciousness.
Should the dining area be in a room, use a rectangular wooden or glass top table. 
Accessorise minimalistic.
3. Property Styling – The Master Bedroom
When selling your home, one of the key rooms to focus on is the bedroom. This space should be clutter-free and relaxing, making it a calming oasis for potential buyers. Here are a few tips on how to style the master bedroom when putting your property on the market:
First and foremost, declutter! This is especially important in the bedroom as buyers want to see a space that looks peaceful and inviting. If your bedroom is crammed full of furniture and personal belongings, it will appear small and cluttered. Remove any unnecessary items and make sure there's plenty of open space.
Next, focus on the bed. This is the focal point of the room, so make sure it looks tidy. Style the bed in a way that looks inviting and cozy.
Combine different colours and textures using throws, decorative cushions, valances and quilts (preferably white) for that eye-catching look. Embellish with bedside tables, bedside lamps, a few accessories and artwork.
Should the bed not have a headboard, there are still ways to style your bed and make it look great. Simply stack a few European cushions against the wall. This will add height to the bed and create a background against which the decorative cushions can be styled.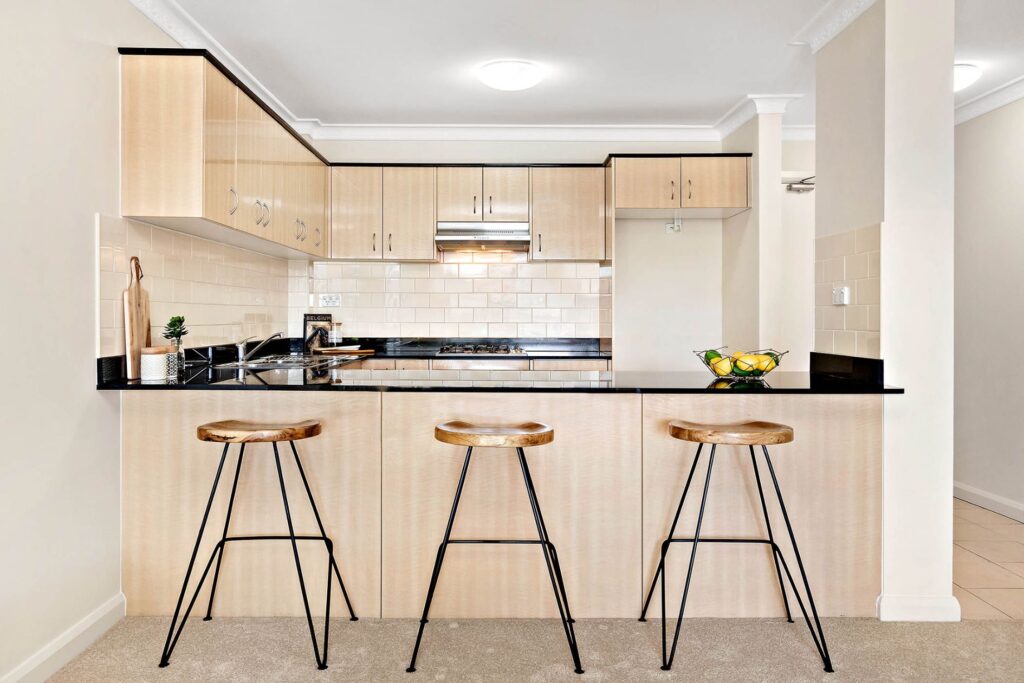 4. Property Styling – The Kitchen
When your kitchen is styled well, it feels welcoming, a place that a buyer can imagine themselves enjoying as the heart of their home. Decorate sparingly with accessories. The potential home buyer can then easily imagine the placement of their kitchen appliances and decorative items within the beautifully presented minimalistic styled space.
5. Property Styling – The Bathroom
This space should be clean, bright, and inviting. The Bathroom Rule of thumb – bathrooms should be kept pristine clean, toilets flushed, seats down and clutter-free with minimum accessories. Use white towels, add a handwash soap dispenser and well-placed plants. Artificial plants work well in this area.
So, whether you're getting ready to sell your home or not, it's always a good idea to keep your styling options open. You may consider hiring a professional property stylist or take our Home Improvement Training self-paced online courses and learn how to do it yourself. Click anywhere on the image below and choose the styling area you need advice on to create beautiful and stylish spaces in your home that will wow potential buyers and give your home that extra edge over the competition.