FREE: Learn how to pick and install the right Artwork for any wall…
Choosing the right artwork for any room can be a challenge. Once you've managed to pick the right colour and style, you are then faced with the dilemma of how to hang it? Don't worry, you are not alone, this is one of the things we found the hardest as stylists. What size, shape and style of artwork should I pick and how do I install it on a brick or gyprock wall? What tools do you need?
What Are You Going To Learn In This Course?
We will be covering the following topics and so much more…
✓  Picking the right sized artwork for any wall
✓  Selecting the right style, colour and framed artwork
✓  How to hang artwork like a pro
What will you be able to do after this course?
✓  Correctly position artwork in any room/space for maximum impact
✓  You will know what to look for when buying that perfect piece of artwork – getting the right size, colour and style
✓  Leave behind any feelings of fear or uncertainty when it comes to hanging artwork. Our step by step training will teach you what tools and techniques to use when hanging your artwork
This course is perfect for:
✓  If you love all things interior and want to learn more about selecting the right artwork for you home.
✓  Thinking of selling your property? Make buyers fall in love with your property with the right art piece on display
✓  Are you a property developer? We will teach you how to style any room with the right artwork
✓  If you want to start your own property styling or consulting business, then look no further for fantastic artwork selection and installation ideas
Course Content
Total learning:

3 lessons
Time:

25 minutes
HOW TO CHOOSE THE PERFECT ARTWORK FOR ANY WALL

FOOL PROOF WAYS TO HANG YOUR ARTWORK
Instructor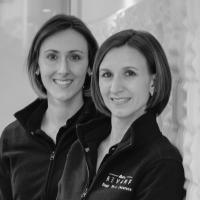 Ronel Bezuidenhout and Nicolene Steward, two super enthusiastic and energetic sisters, have combined their love of property styling with a genuine desire to teach others. They have built an award-winning home staging business and educate TAFE NSW students to become property stagers. They have renovated, styled and helped property owners from all over to prepare their properties for sale. Now, they have put their expert knowledge, skills and strategies together in these online courses, so you too can become a staging expert!