Course Content
Total learning:

6 lessons
Time:

1 hour
Preparing your outdoor area

Furniture placement, flow and size

Outdoor styling items and shopping guide

Outdoor dining space that will hook any buyer

Balcony makeover on a budget
Outdoor lounge area
Clever shopping is key when it comes to buying a lounge outdoor set.
We suggest buying at least one lounge set.  We recommend a small profile set that you can use in a small space, on a balcony or on a big front porch.
A double seater, 2 armchairs and a coffee table are ideal.  If you need to stage a small space, you only use the 2 armchairs.
Should the outdoor area be too big, then you can always add a dining area next to it.
Outdoor Lounge – Material and colour
Wicker/rattan outdoor lounge sets
Very durable
Wide range of colours available
Consider buying a lighter colour set to start with.  Beige or light brown.  White looks great, but it gets dirty really quickly.  Dust needs to blend with the set since it will be outside for a couple of weeks.
2.  Wood and powder coated Metal frame outdoor lounge sets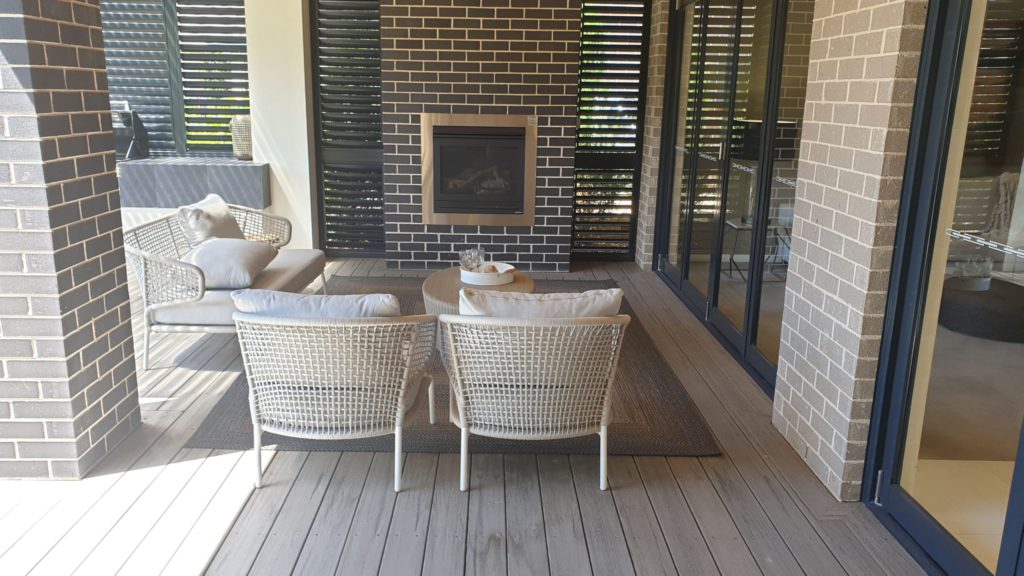 Smaller profile legs on the table and chairs will take less space in your warehouse and will fit in most outdoor areas.
Styling the outdoor dining area
Generally when you work with a smaller size outdoor area, use only the 2 armchairs, side table with accessories.

 You can use an outdoor rug to define the space.
If the set feels a bit small in the space and there is not enough space for another outdoor set, then use potted plants in the corner and move the sofa and chairs further away from each other.
Place decorative cushions on the chairs for added colour and texture.
Items to style with:
We strongly recommend using accessories for the coffee table that are very heavy.  You do not want to drive back to a property because the wind blew off your lovely glass vase.
Use outdoor items that you do not feel sorry for and that is "weatherproof".
Choose decorative cushions that are waterproof.  Using outdoor colours (blue for the sky, green for the grass) are great.
Lanterns
Artificial plant/s
Tray with water jug and glasses
Ask the agent to bring the furniture and cushions inside.  If the set is big and heavy, we ask that they move it deeper undercover, in case it rains.  This ensures that the birds do not make a mess on top of the cushions and furniture and the outdoor set stays clean during the marketing campaign.
Placing furniture outside, without any roof over will cause damage to your furniture.  You have a couple of options.
Do not stage outside
Increase your damage deposit
Provide the agent with an umbrella and a cover and ask that they cover your furniture after each open home
Ask the agent to bring the set inside after each open home.  This can only be done if the set is small and light.
In the video below we have a quick talk about the positioning of the lounge furniture.
Click on the yellow circle below for styling examples of outdoor dining sets.