Course Content
Total learning:

10 lessons
Time:

2 hours
6 Ways to immediately increase the perceived size of any bathroom.

6 Ways to immediately increase the perceived size of any bathroom

Bathroom: Decluttering & cleaning solutions that work

Quick bathroom upgrading secrets that will add $$ to the value of your home

Bathroom cleaning solutions

Now the fun part: Styling your bathroom

Styling your bathroom like the professionals

Shopping guide for a minimal budget

Bathroom Practical: Before and After photos

Creating an internal laundry

Declutter and Styling method
Towels
Towels are a great way to introduce texture, softness and luxury to a bathroom.
When you visit a hotel or a spa, what colour are the towels?  Are they clean and fluffy or discoloured and worn out?  Well, your potential buyer expects nothing less when they inspect your bathroom.  Always ensure your towels are in a good condition.
Great towel colours:
White – when you are not sure about the colour, always choose white.  White gives a sense of luxury and cleanliness.
Neutral (soft grey or beige) – try and match the colour of the wall tiles or the colour of the vanity.
We always recommend spending a bit of money and get some nice fresh towels, it really makes a big impact on the overall look and feel of your bathroom.
The number of towels that you will need will depend on how long and how many towel rails there are.  As a minimum, you will probably need 2 long white towels and a hand towel (if there is a hand towel rail).
The video below shows you how to hang your towels.
Key things to remember:
*  Always tuck the seams in, so you do not see them
*  Make sure the pattern on the end of the towels are the same if you can see them
*  When hanging handtowels, also make sure you tuck the sides in so you do not see the seems.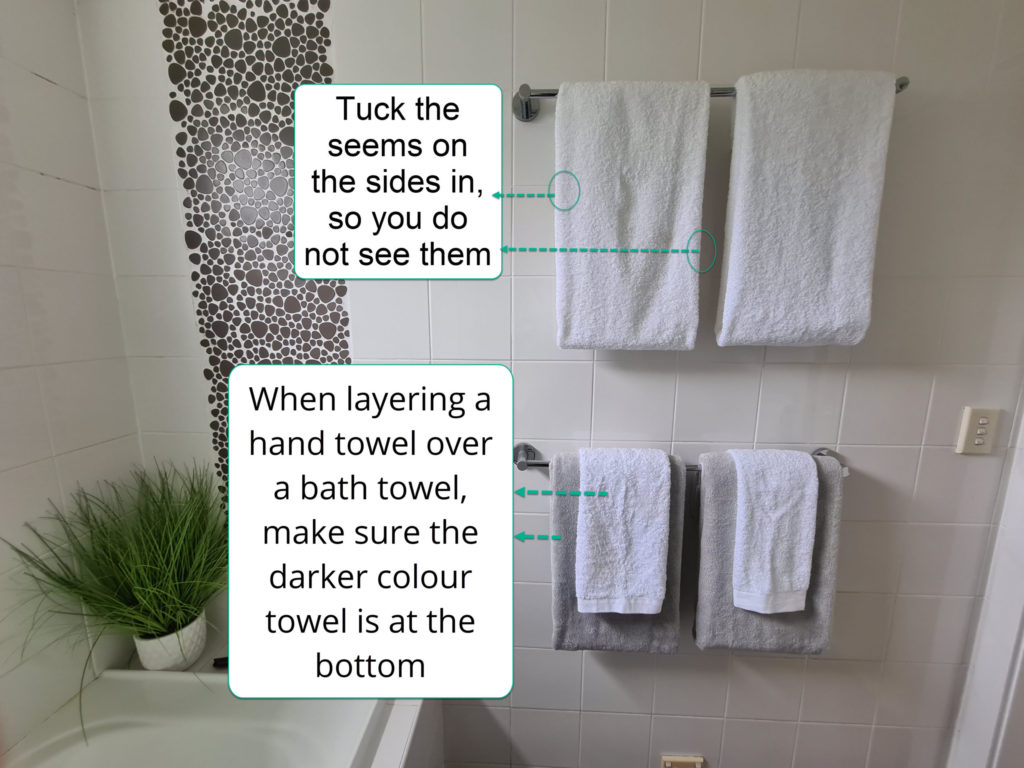 If you have a towel rack, simply fold 2 to 3 towels and place them on top of each other, see the picture below as an example: